NEWS
Open Day – May 2017
A huge thanks to all who came to our open day a few weeks ago, the day was amazing and it was lovely to see so many of you here supporting us. The final total raised was just under £2400, this included the £605 raised by Hilary Cowles and her head shave
Denmark 2017
On the weekend of 19th – 22nd May, Vicki Oliver from Brockworth Hedgehog Rescue and Jo Bisley from Wild Hogs Hedgehog Rescue (Frampton on Severn) spent time in Odense in Denmark. On the Saturday they presented to members of Pindsvinevennerne I Danmark about how they run their rescues and the work involved here in the UK.
Pindsvinevennerne I Danmark is a Hedgehog Organization in Denmark that was founded in 1993, it currently has 85 carers registered. In Denmark the organization fully funds and supports all its carers, so the carers do the hands on hedgehog work and the organization does everything else, such as fundraising, publicity, dealing with all the phone calls, arranging drivers to collect the hedgehogs and take to carers if needed. The organization pays all the vet bills and supplies all the carers with everything they need to do their work.
The presentation given by Jo and Vicki at a carers event was to give the Danish carers an insight to how Hedgehog Rehab works in the UK where all rescues are fully independent and responsible for all aspects of being a charity or non-profit organization.
As well as the presentation Jo and Vicki also visited one of the carer's at her home in Odense where she can be responsible for up to 100 hedgehogs.
The friendship between Brockworth Hedgehog Rescue, Wild Hogs Hedgehog Rescue and the Pindsvinevennerne I Danmark began in May 2015 when 4 members of the Organization visited the UK and spent time with both Jo and Vicki gaining an insight to how they do things.
There is still so much to learn about Hedgehogs and trying to understand the reasons behind their decline, in Denmark the Hedgehog has a higher protection status than in the UK, which does have some restrictions on the things that the Danish carers can and cannot do compared to the UK rescues, for instance they are not allowed to microchip, so here rescues can use it to learn from and it provides some fantastic information about the hedgehogs returning to rescues for treatment.
Jo and Vicki are looking forward to continuing to work with the Pinsvinevennerne I Danmark and will no doubt be returning to Denmark when the rescues allow them to.
Back row L-R – Jo Bisley (Wild Hogs Hedgehog Rescue), Karin Albin (PID Chairman and Carer), Aslaug Bugge (PID Board Member and Carer)
Front Row L-R – Vicki Oliver (Brockworth Hedgehog Rescue), Lizzy Fisker (PID Vice Chairman) Lone Laebel Ehlers (Treasurer and Marketing)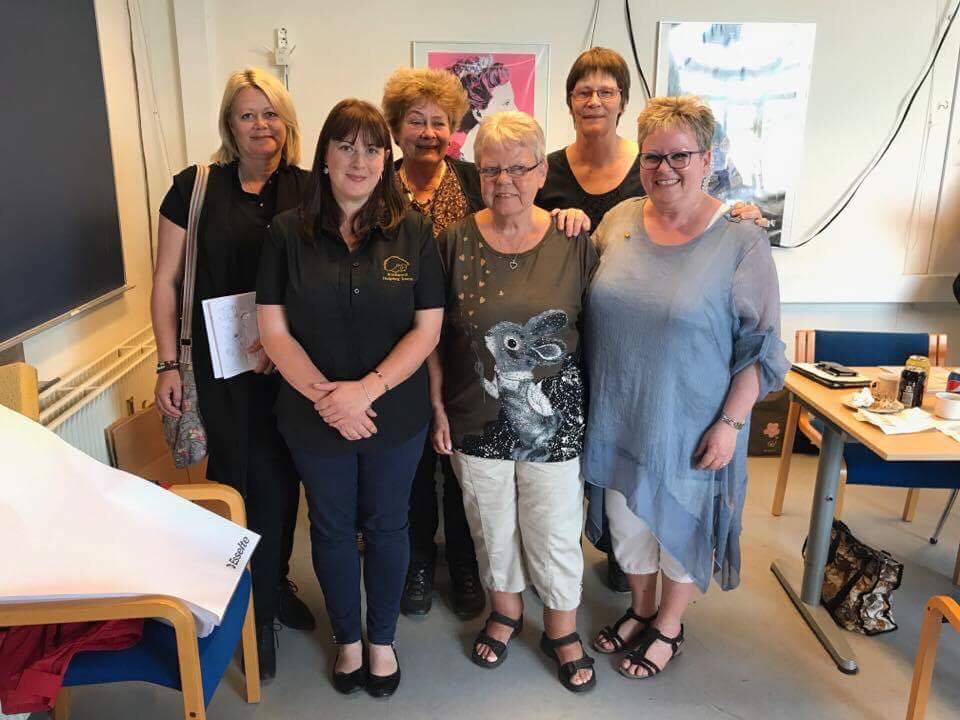 Brockworth Hedgehog Warning Road Sign Trial
With the support of Gloucestershire County Council's Highways department and Brockworth Parish Council, we have secured a 6-month trial of Hedgehog Warning road signs in Brockworth
Shurdington Road and Ermin Street have always been roads that result in high numbers of hedgehog deaths, so during the last 18 months we have monitored the number of deaths and car related injuries brought in from Brockworth.
With the new development planned for our green belt in the future this will have a major impact on the hedgehogs that currently live in the gardens on that side of the village. The development will push them in the direction of both Shurdington Road and Ermin Street in their 1-2-mile search for food each night.
We are hoping that the 10 warning signs on our roads will result in a greater awareness of the hedgehogs crossing and avoid as many being killed as in previous years.
The British Hedgehog Preservation Society have confirmed that this is the first trial of its kind in the UK.
PLEASE NOTE
The signs we are using are Highways approved signs and their locations on the roads have been approved by Gloucestershire County Council Highways.
Hedgehog Warning Road Signs that are purchased online are not Highways/Government approved and should only be used on private land, any unauthorised signs positioned on the public highways could cause a distraction to motorists and this could result in an accident and loss of human life. Any that are put up can be removed by the highways.